Our
Cordyceps sinensis
is derived from a master strain of Cordyceps sourced from Nepal. The powder contains both mycelium and primordia (young fruit body) cultivated into a biomass that is grown on a sterilized (autoclaved) substrate.
This cultivation process ensures the powder is free from contamination by other fungi and that pesticides and heavy metals are absent. The cultivation system is proprietary, allowing for standardized production of
Cordyceps sinensis
. The powder biomass is then sealed in plastic containers.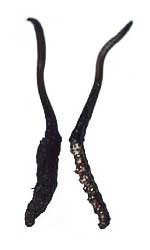 * Picture of the
Cordyceps sinensis
Unlike Cordyceps sourced from the Far East the MRL raw material is not harvested from dead caterpillar but rather is grown on a sterile culture medium. Thus the possibility of contamination by harmful bacteria or fungi is eliminated.