A Positive Approach to Health & Wellness
GMHP Health Products
Nutraceuticals for Good Health and Nutrition from Natural Herbs and Organically Grown Mushrooms
Reishi & Reishi Tea
How to Prepare: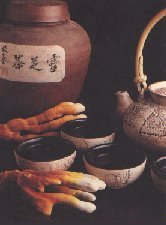 Herbal Meditation Tea
Use contents of 3 - 6 Capsules of ReiShi Plus, Cordyceps PlusTM, OR using sharp shears, cut 3 or 4 inches of Rare Red ReishiTM. Snip pieces into small segments (the Smaller the better) or shred in blender. CAUTION: When using a blender, never overload. Always cover blender mouth to avoid eye injury. Soak in 12 to 16 ounces of cold water in the refrigerator overnight or in warm water for one hour. After soaking, cover and simmer for 5 minutes (do NOT use an aluminum pan). Pour through a strainer or filter. You may wish to add a tablespoon of honey or sugar as the natural taste is slightly bitter. Enjoy while relaxing, before bedtime, or just prior to meditation.

Traditional Asian Wine Tonic
In Asia, Medicinal formulae are often prepared by soaking herbs in alcohol for long periods. This is thought to allow the active ingredients and healing spirit of the herb to be released into the fluid. Soak entire dry Rare Red ReishiTM fruit body in warm water for 15 minutes. Carefully Remove the re hydrated Rare Red ReishiTM, place it in a 12 ounce bottle and fill the bottle with vodka or brandy and seal with a cork or other tight fitting closure. Or simply empty 8 - 12 capsules in a 12 ounce bottle. Allow to soak in a dark, cool place for no less than 6 weeks (the longer the better). Some age their tonics for 10 years! Sip 1 or 2 teaspoons when feeling deeply rundown or on the verge of illness.

Traditional Reishi Soup

Use a Chinese double boiler, or a clay, Pyrex, or stainless steel pan combine 3 one inch sections of Rare Red ReishiTM with a chicken thigh or your favorite vegetables in 3 cups water. Add a few slices of ginger or mashed garlic cloves. Cover and simmer at a very low heat for 1 to 3 hours.




GMHP, P. O. Box 515, Graton, CA 95444

Fax: (707) 823-9091

or E mail Credit Card Orders to: admin@health.pon.net

Click Here to request more information.

Design by MCS

Copyright © 2000 - 2015