Sugars That Heal
Book
| | |
| --- | --- |
| | A revolutionary healing program based on eight natural essential sugars |
| | How to add these sugars to your diet so you can live a healthier life |
| | Fight disease, prevent infection, and boost your immune system |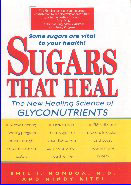 Sugars That Heal
by Emil I. Mondoa, M.D. & Mindy Kitei. Sugars That Heal offers a revolutionary new health plan based on the science of glyconutrients--foods that contain saccharides. It gives authoritative guidance for getting all eight saccharides conveniently into your diet through supplements and readily available foods, as well as detailed information on correct dosages. Here, too, are chapters dealing with the special nutritional needs of people suffering from cancer, heart disease, asthma, and neurological disorders, and methods for using glyconutrients to treat depression, obesity, and ADHD. $22.00 + S/H


Click Here to print out out Order Form
VISA - MASTER CARD - DISCOVER - AMERICAN EXPRESS
24 hour ORDER line: (800) 789-9121
Gourmet Mushroom Products, P. O. Box 515 IP, Graton, CA 95444
Book Description:

"Sugars that heal" it sounds like a contradiction in terms, but it's the key to one of the most important breakthroughs in recent medical science. We've all been bombarded with warnings about the evils of consuming too much sugar. But, in fact, for our bodies to function properly, we need small amounts of eight essential sugars, only two of which--glucose and galactose--are commonly found in our limited, over processed diets. When all eight sugars are available, the health benefits can be breathtaking: Individuals regain their ability to fight disease, reactivate their immune systems, and are able to ward off infection. Based on cutting-edge research in the rapidly evolving science of glyconutrients, Sugars That Heal is an exciting new approach to health and disease prevention.

As medical doctor and scientific researcher Emil Mondoa explains, these eight essential sugars, known as saccharides, are the basis of multicellular intelligence--the ability of cells to communicate, cohere, and work together to keep us healthy and balanced. Even tiny amounts of these sugars--or lack of them--have profound effects. In test after test conducted at leading institutes around the world, saccharides have been shown to lower cholesterol, increase lean muscle mass, decrease body fat, accelerate wound healing, ease allergy symptoms, and allay autoimmune diseases such as arthritis, psoriasis, and diabetes. Bacterial infections, including the recurrent ear infections that plague toddlers, often respond remarkably to saccharides, as do many viruses--from the common cold to the flu, from herpes to HIV. The debilitating symptoms of chronic fatigue syndrome, fibromyalgia, and Gulf War syndrome frequently abate after adding saccharides. And, for cancer patients, saccharides mitigate the toxic effects of radiation and chemotherapy--while augmenting their cancer-killing effects, resulting in prolonged survival and improved quality of life.

Sugars That Heal offers a revolutionary new health plan based on the science of glyconutrients--foods that contain saccharides. It gives authoritative guidance for getting all eight saccharides conveniently into your diet through supplements and readily available foods, as well as detailed information on correct dosages. Here, too, are chapters dealing with the special nutritional needs of people suffering from cancer, heart disease, asthma, and neurological disorders, and methods for using glyconutrients to treat depression, obesity, and ADHD.

The more doctors learn about glyconutrients, the more excited they become about their long-term fundamental health benefits. Now, with this new book, the breakthroughs in the study of glyconutrients are available to everyone. Whether your goal is to prevent disease, live longer and better, or treat a serious illness that has eluded conventional medicine, Sugars That Heal is your essential guide to complete health.

From the Publisher "Dr. Mondoa has made an important contribution to our discovery of how Nature aids in the healing process." --Gary Null

"Wow...what an absolutely fantastic breakthrough. Every once in awhile a book like this is published. Sugars That Heal will change your life." --Dharma Singh Khalsa, M.D., author Brain Longevity and The Pain Cure "Sugars That Heal is an excellent resource and reference for individuals who are looking for solutions for many common health problems. Most people are not aware of how tremendously helpful essential saccharides can be, so Sugars That Heal is really on the cutting edge of the latest medical research." --Susan Lark, MD, author of The Chemistry of Success "Sugars That Heal is a breakthrough book. Unfortunately, information about the beneficial, healing sugars and polysaccharides has been "lost" in the well-deserved ocean of bad publicity about our nation's enormous over consumption of sucrose, fructose, and refined carbohydrate. In Sugars That Heal, Dr. Emil Mondoa and Mindy Kitei present for us a well-documented book about the good sugars and polysaccharides, with details on both their preventive and therapeutic effects. This book will fill an important gap in our health libraries. Highly recommended!" --Jonathan V. Wright, M.D., co-author of "The Patient's Book of Natural Healing," and "Natural Hormone Replacement."

About the Author Emil I. Mondoa, M.D., is a practicing, board-certified pediatrician affiliated with Our Lady of Lourdes Medical Center in Camden, New Jersey; South Jersey Medical Center in Vineland, New Jersey; and the Alfred I. duPont Hospital for Children in Wilmington, Delaware. He also holds an MBA from the Wharton School, with a focus on health-care management. He is founder of the Glyconutrients Research Foundation.

Mindy Kitei is an editor, writer, and instructor who works in Philadelphia. A graduate of the University of Pennsylvania and the Medill School of Journalism at Northwestern University, she is a former editor at TV Guide and Philadelphia Magazine. She has taught journalism at Temple University and Rosemont College.



Copyright © 1998 - 2015